The Stories of the World's First All-Civilian Mission to Orbit Come to Netflix This September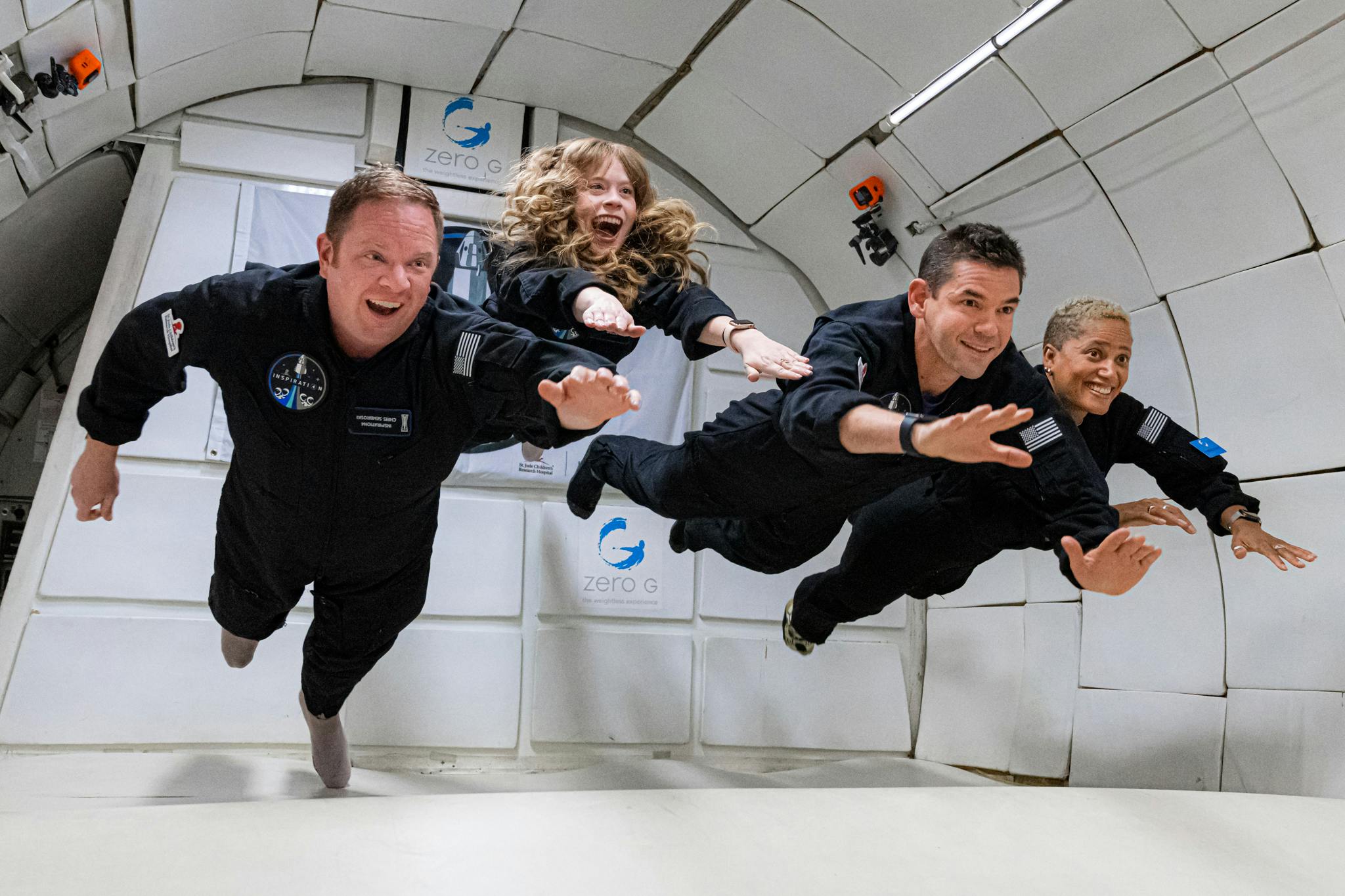 Documentary Series Countdown: Inspiration4 Mission To Space Premieres In Near Real-Time Before And After The Mission Launch 
A StoryBots Space Adventure Answers Kids' Most Pressing Questions 
This September, four civilians will launch into space for a three-day trip orbiting Earth and reaching an altitude higher than that of the International Space Station (ISS). The SpaceX Dragon mission, dubbed Inspiration4, is the most ambitious step to date in the rapidly developing age of civilian space exploration, making history as the first all-civilian mission to orbit.
Netflix members around the world can follow these civilian astronauts and their historic journey throughout the month:
Countdown: Inspiration4 Mission To Space, the first Netflix documentary series to cover an event in near real-time, will premiere in five parts leading up to and following the mission.  
In this ambitious, quick-turnaround series with exclusive access to the groundbreaking mission, TIME Studios, Known, and producer Connor Schell, along with director Jason Hehir and the team behind The Last Dance, will take viewers behind the scenes with the four crew members -- from their unconventional selection and intensive months-long commercial astronaut training, through the intimate and emotional moments leading up to liftoff. The final episode, which premieres just days after the mission is completed, will feature unprecedented access inside the spacecraft capturing the launch and the crew's journey to space, as well as their return home to Earth.
Production Companies: TIME Studios, Known, Words & Pictures
Director and Executive Producer: Jason Hehir (The Last Dance)
Executive Producers: Connor Schell (30 for 30, The Last Dance), Libby Geist (O.J.: Made in America, The Last Dance), and Aaron Cohen for Words & Pictures; Ian Orefice, Alexa Conway, and Rebecca Gitlitz for TIME Studios; Ross Martin, Brad Roth, and Mark Feldstein for Known.
Produced By: Jonathan D. Woods (A Year in Space) and Jake Rogal (The Last Dance)
A StoryBots Space Adventure is a hybrid live-action animation special for kids and families to watch together before the mission
The civilian space travelers from Inspiration4 will help the StoryBots answer some of kids' most pressing questions -- like how does a rocket work, how do they train, and how do they eat and sleep in space. 
The special is scripted by veteran StoryBots writer Erik Weiner and features a new original song performed by Big Freedia.
StoryBots is the children's learning and entertainment brand behind the hit Emmy Award-winning series Ask The StoryBots, created by Evan and Gregg Spiridellis. The show follows a team of colorful characters who live in the world inside our devices and help answer kids' biggest questions.
Production Company: Mindshow
Led and commanded by Jared Isaacman, the 38-year-old founder and CEO of Shift4 Payments, the Inspiration4 mission is also intended to raise funds and awareness for St. Jude Children's Research Hospital®. The crew was selected to represent the four pillars of the mission: Leadership, Hope, Prosperity, and Generosity.
Joining Isaacman aboard Inspiration4 are: 
Hayley Arceneaux, 29, a physician assistant at St. Jude and pediatric cancer survivor. As the mission's Chief Medical Officer, she will be the first person to travel to space with a prosthesis — an artificial left femur that replaced the bone she lost to her disease at age 10. Hayley, who spent a year at St. Jude receiving life-saving treatment including several surgeries and many rounds of chemotherapy, will also be the youngest American and the first pediatric cancer survivor to go into space. 
Dr. Sian Proctor, 51, a professor of geosciences and two-time NASA astronaut candidate who long dreamed of going to space. As she now realizes her dream, she will bring a picture of her father, who worked for NASA during the Apollo era, along with her. Proctor will serve as the Mission Pilot, backing up the Commander and supporting related needs throughout the mission.
Chris Sembroski, 41, a former member of the U.S. Air Force who served in Iraq and now works as a Lockheed Martin engineer. He made a donation to St. Jude and was gifted the seat to join the mission. Sembroski will serve as the Mission Specialist, helping to manage payload, science experiments, communications to mission control, and more.
Key Dates:
September 6: Countdown: Inspiration4 Mission To Space episodes 1-2 premiere
September 13: Countdown: Inspiration4 Mission To Space episodes 3-4 premiere 
September 14: A StoryBots Space Adventure special premieres 
September 15: Targeted launch of the Inspiration4 mission 
End of September: Countdown: Inspiration4 Mission To Space feature-length finale premieres
About TIME Studios   
From one of the most globally iconic brands, TIME Studios is an Emmy Award®-winning television, film and immersive studio focusing on the development, production and distribution of truth-based premium unscripted and scripted premium storytelling that moves the world. With technical innovation and a brand defining visual language that dates back 98 years, TIME Studios aims to impact communities and the world at large with ideas that forge true progress. Combining the industry's leading creators with TIME, one of the most trusted brands that reaches an audience of over 100 million people globally, TIME Studios is uniquely positioned to bring massive audiences to the world's most impactful stories. Recent projects include, Black Gold (Paramount+), Big Vape (Netflix), John Lewis: Good Trouble (CNN Films), Amazing Grace (Neon), Right to Offend (A&E), Ricky Powell: The Individualist (Showtime), Mass Effect: The Story of YouTube, Kid of the Year (Nickelodeon/CBS), TIME 100 (ABC) and the first scripted project for TIME Studios, Women of the Year (Amazon). 
About Known 
Known is a modern marketing company engineered for the unprecedented challenges and opportunities facing marketers today. Known pairs Ph.D. data scientists with award-winning creatives, expert research teams and strategists. Known is anchored by two decades of groundbreaking market research and data science capabilities, which uniquely empower our marketing strategy and acclaimed creative groups, who produce some of the most innovative, cutting-edge creative work in culture. The result? Marketing that is predisposed to succeed and be persistently optimized, directly impacting clients' bottom lines. Clients span the leading brands in entertainment, finance, technology, media, CPG, health care, real estate and many other categories.  Known is currently producing Hulu's first-ever after-show for "The Handmaid's Tale" and has produced original series and specials for NBCUniversal, WarnerMedia and Discovery Networks.  Known has over 350 employees in six U.S. cities including Seattle, San Francisco, Los Angeles, Austin, Boston and New York and has won multiple Emmys, Clios, Effies and Cannes Lions Awards. Known was named ProMax 2020 Global Agency of the Year.
About Words & Pictures
Words & Pictures, founded by Connor Schell and Chernin Entertainment in 2021, is a production studio with a mission to produce high-end, culturally relevant nonfiction content. The Words & Pictures team, which includes award winning producers Libby Geist and Aaron Cohen, is led by the creators and producers of the groundbreaking 30 for 30 series, The Last Dance, and the 2017 Academy-Award winning "O.J.: Made in America." 
About Netflix
Netflix is the world's leading streaming entertainment service with over 209 million paid memberships in over 190 countries enjoying TV series, documentaries and feature films across a wide variety of genres and languages. Members can watch as much as they want, anytime, anywhere, on any internet-connected screen. Members can play, pause and resume watching, all without commercials or commitments.