Inspiration4 'Go' for First All-Civilian Orbital Mission to Space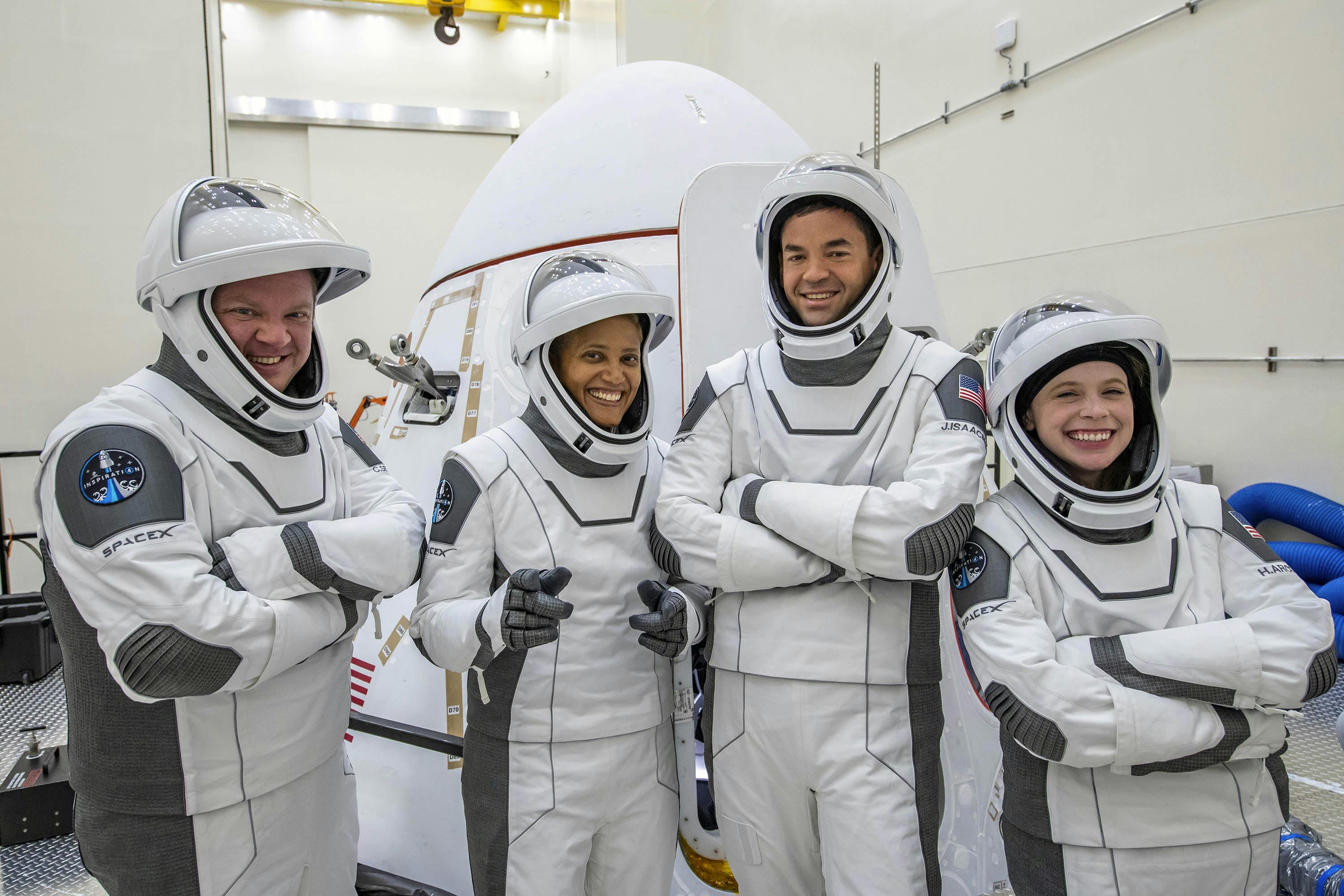 Inspiration4 'Go' for First All-Civilian Orbital Mission to Space
HAWTHORNE, CA, September 3, 2021 – Teams from SpaceX and Inspiration4 met yesterday at SpaceX's headquarters in Hawthorne, California to evaluate the readiness of the Falcon 9 rocket, Dragon spacecraft, ground systems, recovery assets, crew training, and other key elements of SpaceX's human spaceflight system for Inspiration4 – the historic first all-civilian human spaceflight mission to orbit. Upon conclusion of the Flight Readiness Review, teams are proceeding toward a targeted launch on Wednesday, September 15 UTC (September 14 EDT) from Launch Complex 39A at NASA's Kennedy Space Center in Florida. A backup launch opportunity is available on Thursday, September 16 UTC (September 15 EDT). Both 24-hour launch windows start at 12:00 a.m. Coordinated Universal Time (UTC).
Approximately three days before liftoff, SpaceX will narrow down the launch window to five hours based upon weather conditions at the launch site, along the ascent corridor, and at landing locations off the coasts of Florida for a safe return of the crew and splashdown a few days later.
The Inspiration4 crew – consisting of Mission Commander Jared Isaacman, Mission Pilot Dr. Sian Proctor, Medical Officer Hayley Arceneaux, and Mission Specialist Chris Sembroski – are scheduled to arrive in Florida on Thursday, September 9 to begin final preparations for their mission. For background on the Inspiration4 crew, see the original crew announcement from March 2021 as well as crew bios at https://inspiration4.com/crew. 
Since the March 2021 announcement, the Inspiration4 crew has focused extensively on mission training and preparation, spending the past six months completing a wide range of training activities including centrifuge training, Dragon simulations, observations of other SpaceX launch operations, Zero-G plane training, altitude training and additional classroom, simulation and medical testing. This focused preparation was essential in team development and being ready to execute their role as the first commercial crew to orbit the Earth. 
To follow Inspiration4's journey throughout the mission, visit www.inspiration4.com and follow along on Twitter (@inspiration4x), Facebook (@inspiration4mission) Instagram (@inspiration4) and YouTube (@Inspiration4). 
###
Media Contacts: 
Brian Bianco
BCW for Inspiration4
About Inspiration4
Inspiration4, the world's first all-civilian orbital mission to space, will be commanded by Jared Isaacman, the 38-year-old founder and chief executive officer of Shift4 Payments (NYSE:FOUR). The mission is named in recognition of the four-person crew's mission to inspire support for St. Jude Children's Research Hospital® and send a humanitarian message of possibility while representing a new era for human spaceflight and exploration. The crew will undergo commercial astronaut training by SpaceX before embarking on a targeted launch on a Falcon 9 launch vehicle and Dragon spacecraft from the historic Launch Complex 39A at NASA's Kennedy Space Center in Florida in September 2021. Isaacman has donated the three mission seats alongside him to crew members who will represent the mission pillars of leadership, hope, generosity and prosperity. To learn more about Inspiration4, including how to support and potentially join this historic journey to space, visit www.inspiration4.com and follow Twitter (@inspiration4x), Facebook (@inspiration4mission) Instagram (@inspiration4) and YouTube (@Inspiration4).